Anti-static material
Location:首页 > Products > Anti-static material > 正文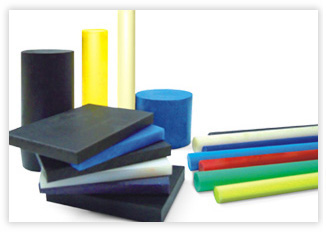 ESD PA sheet/rod
SN:ESD PA sheet/rod
TEL:+86-755-28113160
MOBILE:+86-13421367051
E-MAIL:sales@quandaplastic.com
◎ESD PA sheet/rod


Antistatic Nylon Rod use MC Nylon asbase material, add carbon series filler material to enhance the conductivity /preventelectric performance.
The filler material of MC501CD dispersionis homogeneous, any part of the resistance value are the same, the machiningcan also be assured.
The constant volume resistance for R2 is102~104, R6 is 104~106Ω·cm
The constant volume resistance for R9 is108~1010, the pollution for R11 is very little as without fillermaterial(Carbon), additive and etc. thus no ultrafine particles caused byfalling of carbon powder. It's natural color(primary color), with clean surface and wide range in application.
Color: Black, Natural(Primary color)
Application: Pallet, Guide rail,Baffle plate, Testing fixture etc.


















Item

ASTM

Unit

MC501CDR2

MC501CDR6

MC501CDR9

MC500ASR11

Density

D-792




1.2

1.23

1.19

1.15

Tensile Strength

D-638

Mpa

68

74

88

52

Elongation

D-638

%

10

7

12

162

Tensile Modulus

D-638

Mpa










Compressive strength (at yield)

D-695

Mpa










Compressive strength (Deform at5%

D-695

Mpa

98

93




33

Compression elasticity

D-695

Mpa

4210

4020




1314

Impact test strength

(

notch)

D-256

J/M

35

35

35

180

Tortuous strength

D-790

Mpa

117

117

132

45

Tortuous elasticity

D-790

Mpa

4110

4020

4160

1216

Hardness

D-785

R刻度

119

117

119

93

Continuous use temperature




℃

120

120

150

105

Water absorptions (23℃,Soak in water 24 hours )

D-570

%








1.6

Water absorptions(saturated in 23 ℃water)

D-570

%










Coefficient of linear expansion

D-696

X10-5/℃

8

7.5

8.6

11

Load withstand temperature

1.820MPa (18.6kgf/cm2)

D-648

℃

200

200

200

75

0.445MPa (4.6kgf/cm2)

D-648

℃

215

215




150

Constant volume resistance

D-257

Ω·cm

102~104

104~106

108~1010

1010~1012
Origin: Japan
Productsspecification
Size: Sheetsize:600(Width)*1200(Length)mm 500*500mm
Thickness:5,7,10,12,15,20,25,30,35,40,50mm
Rod Length: 1000mm,500mm,200mm
Rod diameter:10,15,20,25,30,35,40,45,50,60,70,80,90,100,110,120,130,140,150mm