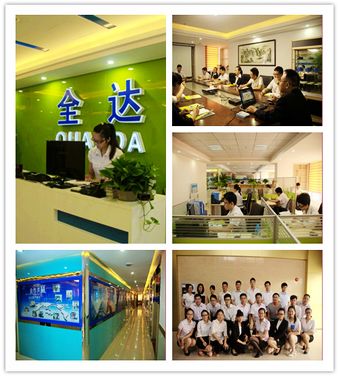 Shenzhen Quanda Industrial Material Co.,Ltd. mainly produce and design electronic insulation material, ESD material.Meanwhile, we are the agent of well-known brand of engineering plastics at homeand abroad to be a manufacturing and trading company. Our quality system hasbeen the first to get ISO9001:2000 certificate.
Products involve insulation series like PF phenolic,bakelite, EP epoxy series, UPR, durostone and other electrical insulatingmaterials. Types contains sheet, thin sheet, rod, pipe, injection component andprofiles. We are one of the few enterprises with full range of insulationmaterials in China.
We strive to long term researching and developing ofenvironmental protection and other functional products, achieves great progressand successfully gets through over dozens of related international standardtesting such as REACH, ROHS etc. Products are widely applied in precision mold,hand smelting equipment, machinery manufacturing equipment, hardware appliance,printing & packing, mine & oil field, construction project, electricmanufacturing, aerospace engineering, medical equipment, food safety etcindustrials and field. Products are papular and widely applied in more than 10countries such Germany, France, Japan etc.
Since inception our company always adheresto the concept of serving customers with advanced technology. We have providedcustomers with one-stop service in isolation plastics industry applications.The whole process includes pre-selection design before selling, integratedprocessing program while selling, and after-sales tracking effect of productapplications. We own dozens of professional technicians with more than 10 yearsexperience in the field of plastics, metal, mold and machining. We can also beclosely integrated with hardware processing to customize all kinds of precisionplastic parts for our customers.
"Serve up towhat you want" is thecompany's concept of QUANDA, which has been kept in mind of all members to totally indicate QUANDAbrand. QUANDA strives to comply with customers' will, provide all productsbased on the strictest technical manual. Only the best material can be appliedin manufacturing. What's more, QUANDA is fully willing to assist you to provideprofessional advice and innovated & appropriate system solutions for yourapplication.

QUANDA, YOUR RELIABLE PARTNER!