Epoxy Fiber Glass
Location:首页 > Products > Epoxy Fiber Glass > 正文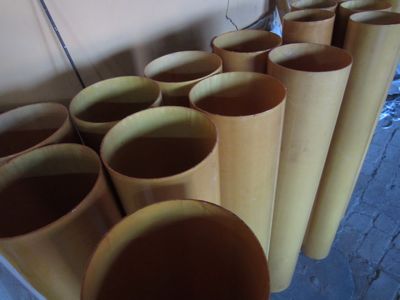 3640 Epoxy Fiber Glass Tube
SN:3640 Epoxy Fiber Glass Tube
TEL:+86-755-28113160
MOBILE:+86-13421367051
E-MAIL:sales@quandaplastic.com
3640Epoxy Fiber Glass Tube
Color:dark yellow
ShapesInclude: Tubes
Size:
Epoxy Tube

Outer Diameter (mm)

10mm

—1400mm

Inner Diameter(mm)

5mm

---1200mm

Wall thickness (mm)

1mm

---50mm

Length (mm)

450mm

---1600mm
I. Define and purpose
This laminated product is formed through heat pressing afterelectric industry alkali glass cloth dips into the epoxy phenolic resin. It hashigh mechanic and dielectric performance, and applicable as insulationstructural components for electromechanical/electrical equipment, as well asused under damp environmental conditions and transformer oil.
II. Technical requirement for surface
The surface of laminatedboard should be flat and smooth, no bubble, no wrinkle, no delamination orcrackle, and properly free from other defects such as scrape, impress, dirty spot and uneven color, but a littlecolor patches is allowed.
III. Characteristics
♦ High mechanicalproperties, and oil resistance and certain dielectric property.
♦ Temperature resistance: 150 ℃
♦ Withstand a variety of chemical solvents andacid erosion
VI. Application
Chemical machine parts ,general machine parts and gear ,and generators, Pads, base, baffle etc..Generator,transformer, fixture, inverter, motor and electric insulation component.